April 19, 2023 – UC Cyber Security Summit
We were so thrilled to return to an in-person event for the 14th UC Cyber Security Summit! This year's Summit was held on April 19th at UCLA Carnesale Commons, and it was our first in-person Summit since the pandemic. Our experts spoke on a variety of topics, including cybersecurity, the law and the CISO, privacy-enhancing technologies, cross-industry insights for higher education, and how to create a security-first mindset. In addition to all the talks by the experts, we also had some amazing entertainment and a raffle drawing for incredible prizes.
By sharing information about these topics and discussing them with colleagues, we contribute to a collective mission of research, education, and public service.
Thank you so much to our speakers, sponsors, and attendees! To learn more about our event, please find below a PDF of our Summit Agenda.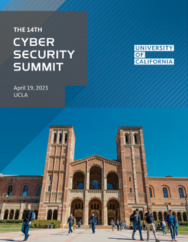 Thank you to our sponsors!