April 14, 2021 – UC Cyber Security Summit Online
The 11th biannual Cyber Security Summit was held online on April 14th, 2021. This spring, we welcomed experts who shared their knowledge about improving supply chain risk, building trust to enhance security, penetration testing, and managing the risks that come with our increasingly remote world.
Our summits build on a rich tradition of information sharing among IT professionals from across the University of California system, California State University, and the California Community Colleges. By sharing our collective expertise, we improve our ability to effectively manage cyber risk, which is vital to safeguarding UC's mission of teaching, research, and public service. These aims remain the focus of our virtual events, which have allowed us to expand our reach and connect in new ways.
Thank you to our speakers, sponsors, and attendees. To learn more about our event, please find below a PDF of our Summit Agenda.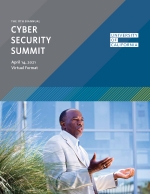 Thank you to our sponsors!