April 17, 2019 – UC Cybersecurity Summit at UC San Francisco Mission Bay
UC held its seventh biannual Cyber Security Summit on April 17, 2019 at the UC San Francisco Mission Bay campus. The April summit speakers presented on risk reduction measures, cybersecurity law, election security, cybersecurity within emerging technology, and human rights. Please find the full agenda below.
Summit Agenda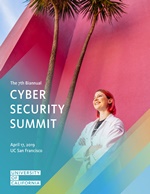 Thank you to our Sponsors!