October 14, 2020 – UC Cyber Security Summit Online
The 10th biannual Cyber Security Summit was our second virtual summit. Our virtual platform allowed attendees from all ten campuses and all five health systems at UC, along with sponsors, industry leaders, and UC representatives, to collaborate and learn from each other. 
Every summit, we build on a rich tradition of information sharing. By gathering together and sharing our collective expertise, we improve our ability to effectively manage cyber risk, which is vital to safeguarding UC's mission of teaching, research, and public service. These aims remain the focus of our virtual events, which have allowed us to expand our reach and connect in new ways.
This fall, we were delighted to welcome experts who shared their knowledge about data security, education for new security professionals, and innovative developments in technology. We also heard from a panel of UC leaders who are adapting to meet the changing needs of our virtual world. 
To find out more about our event, please consult our full Agenda below.
Summit Agenda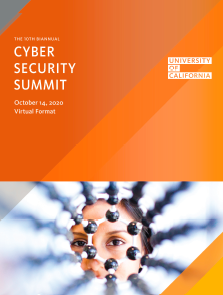 Thank you to our Fall 2020 Cyber Security Summit Sponsors!