April 20, 2022 – UC Cyber Security Summit Online
The 13th Cyber Security Summit was held on April 20, 2022.
Our speakers included Juliet "Jules" Okafor, founder and CEO of Revolution Cyber; Ed Skoudis, President of SANS Technology Institute; and Chris Hadnagy founder and CEO of Social-Engineer and the founder of the Innocent Lives Foundation, along with a panel of UC privacy experts.
Our summits build on a rich tradition of information sharing among IT professionals from across the University of California system, California State University, and the California Community Colleges. By sharing our collective expertise, we improve our ability to effectively manage cyber risk, which is vital to safeguarding UC's mission of teaching, research, and public service. Thank you for attending.

To find out more, please see the official Summit Agenda below.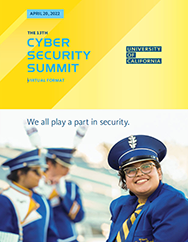 Thank you to our generous sponsors!