April 15, 2020 – UC Cyber Security Summit Online
This unique event was our first virtual summit, bringing together stakeholders from all ten campuses and all five health systems at UC. Cybersecurity professionals shared ideas about the most important innovations and challenges in their field, including topics such as ensuring data privacy, improving risk management, increasing patient safety, and harnessing the benefits of AI and machine learning.
Our goal has always been to share our collective expertise in order to better safeguard UC's mission of teaching, research, and public service. In the spring of 2020, this goal is of the utmost importance. Enhancing cybersecurity and mitigating risk are absolutely vital to all of us as we rely heavily on the ability to connect virtually. 
Summit Agenda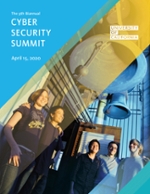 A special thanks to our sponsors, whose innovative expertise made our event possible.