October 24, 2018 – UC Cyber Security Summit at UC Riverside
UC held its sixth biannual Cyber Security Summit on October 24, 2018 at the UC Riverside campus. 139 attendees from all 17 UC Locations, California State University, California Community College, the FBI, California Department of Technology, and other local universities gathered to discuss current trends and challenges in our field. During the summit, we also focused on the growing need for a larger cybersecurity workforce and how enhancing the diversity of that workforce—in terms of gender, race and ethnicity, socioeconomic background, and other parameters—strengthens our ability to successfully manage cyber risk.
Summit Agenda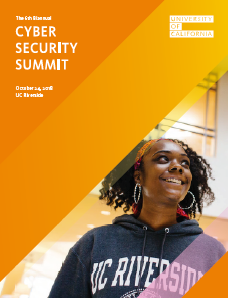 Thank you to our Fall 2018 Cyber Security Summit Sponsors!