October is National Cyber Security Awareness Month!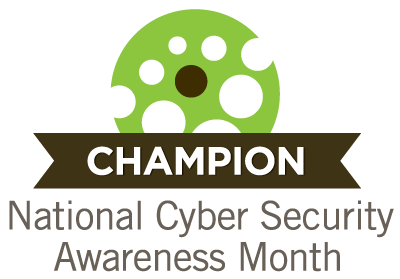 The goal of National Cyber Security Awareness Month (NCSAM) – celebrated every October – is to ensure that all Americans have the resources they need to stay safer and more secure online.
2018 NCSAM Resources for the UC Community
These resources are the result of the work of a systemwide workgroup representing 12 UC locations. They include a variety of materials for National Cyber Security Awareness Month which are available to all UC campuses. The goal of this cross-campus collaboration, and this toolkit, is to save campuses time and effort by providing a range of options from which to pick and choose for National Cyber Security Awareness Month. Not everything will meet everyone's needs, but the workgroup hopes that most campuses will find at least some resources useful.
All of the following resources are available to the entire University of California community.
NCSAM toolkits from previous years are available on our NCSAM archive page.
Please also check out our Information Security Awareness pages for resources to use year round.
---
Quicklinks: | Events | Toolkits | Social Media Posts | Additional Resources |
NCSAM Events:
UC Events:

Oct 10, 11:30AM-12:30PM: UC Davis Health NCSAM Event, in-person and Live Stream.
"Fighting Hackers: Health Care's Newest Threat" with Jeff Tully, MD. In-person directions and Live Stream link available at https://www.ucdmc.ucdavis.edu/itsecurity/cybersecurity.html (see "Speaker Events," right side of page).
Oct 16, 11AM-1PM: UCOP NCSAM Forum, in-person only.
"Cybersecurity and Human Trafficking – What you need Know." Also, security for personal Apple devices, and a raffle. Light lunch is included. Please see UCOP's Eventbrite page for details and registration.
Oct 16, 9AM-3PM: UC Riverside Cybersecurity Open House. Highlander Union Building (HUB) room 355. Please stop by. No registration necessary.
Oct 22, 3PM: UCSB NCSAM event, available on Zoom Video Conferencing.
Dr. Giovanni Vigna, PhD - "The Role of Artificial Intelligence in Cybersecurity". Dr. Vigna will discuss how Artificial Intelligence is used in security and what are the (little understood) pitfalls of adversarial machine learning. Zoom information: https://ucsb.zoom.us/j/621561285, or join by phone 669-900-6833 or 646-876-9923 Webinar ID: 621 561 285. About Dr. Vigna: https://www.cs.ucsb.edu/~vigna
Oct 25, 10-11AM: UCSF FBI talk, in-person only.
"Current Trends in Theft of Intellectual Property" by Nikki Betz, FBI Special Agent. Please see UCSF's Eventbrite page for details and registration.
Oct 30, 11AM-Noon: UCSF NCSAM webinar.
"When IoT Attacks - Understanding the Safety Risks Associated with Connected Devices". See UCSF's Event Calendar for details and connection information.

Public Events:
Toolkits:
| Lock Down Your Login | 8 Smart Cybersecurity Habits | Connect Securely | IS-3 Protection Level Visuals |
Click on the name of a toolkit below for materials.
Editable versions of many of the campaign materials are available to the UC community. Please contact your Systemwide Information Security Awareness Workgroup rep(s), listed to the left. If your location isn't listed, please email BOTH Julie Goldstein AND Kamika Hughes at julie.goldstein@ucop.edu and kamika.hughes@ucop.edu for assistance.
---
"Lock Down Your Login" materials:
Article: Tips for Selecting & Managing Passwords

Article: Lock Down Your Login with MFA
Posters (4)
Video shorts
MFA Resources
Tweets
----
8 Smart Cybersecurity Habits
version 1

8 Smart Cybersecurity Habits
version 2
"Eight Smart Cybersecurity Habits" materials:
Article: Make It a Habit! Eight Habits to Keep You Safe Online
Posters (2)
Video shorts
Tip sheet
Postcard
Tweets
FTC materials
----
| | |
| --- | --- |
| Be Safe on Wi-Fi | Wi-Fi Security Tips |
"Connect Securely" materials:
Posters/Infographics (2)
Video short
FAQ
----
(All four thumbnails link to a single, 4-page PDF)
| | | | |
| --- | --- | --- | --- |
| IS-3 Protection Level Visuals - emojis and batteries | IS-3 Protection Level Visuals: gauges | IS-3 Protection Level Visuals: thermometer | IS-3 Protection Level Visuals: hazard flags |
----
Social Media Posts
Click on image to view full-sized, downloadable graphic
----
Additional NCSAM Resources: