National Cyber Security Awareness Month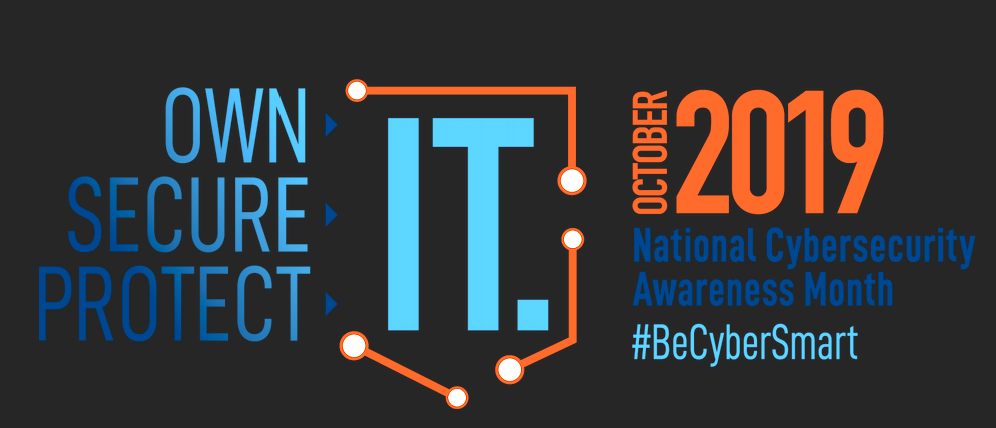 Become a Cyber Champion during National Cyber Security Awareness Month 

October is National Cyber Security Awareness Month (NCSAM), an annual effort to increase cybersecurity awareness and to prevent online security problems. NCSAM is spearheaded by the U.S. Department of Homeland Security and the National Cyber Security Alliance (NCSA).
In 2009, our own President Janet Napolitano, then Secretary of the Department of Homeland Security, launched NCSAM at an event in Washington, DC becoming the highest-ranking government official to participate in the month's activities. 2019 marks the 16th year for NCSAM, ,and since that time, leading Administration officials from White House, DHS, and other agencies have regularly participated in events across the United States.
The Higher Education Information Security Council (HEISC) promotes and participates in the annual campaign each October, joining forces with a range of organizations from the public and private sector to expand cybersecurity awareness on campuses across the country. UC campuses are among higher educational institutions nationwide that participate in NCSAM campaigns to raise cyber awareness within its campus communities and encourage its constituencies to protect their computers, mobile devices, networks, data, and private information.
As our work and home lives become more and more digitally connected, each and every one of us must become a Cyber Champion by doing our part to keep our online lives at work and home safe and secure. All of us have a role in securing our own part of cyberspace. When we use the Internet safely, we make it more secure not only for ourselves but also for everyone else. If we each do our part to champion stronger security practices, raise community awareness, and create and participate in cyber security educational programs, then together we will become a digital society which is safer, more resistant, and protected when attacks do occur. That's what National Cyber Security Awareness Month is all about!
We invite you to participate and become actively involved in National Cyber Security Awareness Month.  Own It. Secure It. Protect It.
NCSAM UC Events: 
Secure Cloud Transformation: How Zero Trust Networking is Enabling Secure Infrastructure
Guest Speaker: Richard Stiennon
The first 5 people to join the webinar will receive a copy of his book!
Date:  October 8, 2019
Time:  10 AM -11 AM
Location:   UC San Francisco Webinar Event
UC Fall Cyber Security Summit 2019
Date:  October 23, 2019
Time:  8 AM - 4 PM
Location:  UC Santa Barbara
Cult of the Dead Cow: How the Original Hacking Supergroup Might Just Save the World
A Discussion with Joseph Menn, Author
The first 10 people to join the webinar will receive a copy of his book!
Date:  October 29, 2019
Time:  10 AM -11 AM
Location:  UC San Francisco Webinar Event
Augmenting Selves -- Challenges of Creating Lives and Futures in a Trained and Tracked Digital World
UCOP Presents: Gigi Johnson, EdD 
Dr. Johnson, who runs UCLA Herb Alpert School's Center for Music Innovation and two think on digital life and work, will talk about the many challenges of our hyper-curated, playlisted world of 2019 and beyond. She will discuss the darker underside of how we are being influenced and trained to make major life decisions through our use of everyday technology. 
Date:  October 30, 2019
Time:  11 AM - 1 PM
Location:  Oakland Center, 1000 Broadway, Grand Lake Suite