October is National Cyber Security Awareness Month!
The goal of National Cyber Security Awareness Month (NCSAM) – celebrated every October – is to ensure that all Americans have the resources they need to stay safer and more secure online.
---
2017 NCSAM Toolkit for the UC Community
This toolkit is the result of the work of a systemwide workgroup representing 12 UC locations. It includes a variety of resources for National Cyber Security Awareness Month which are available to all UC campuses. The goal of this cross-campus collaboration, and this toolkit, is to save campuses time and effort by providing a range of options from which to pick and choose for National Cyber Security Awareness Month. Not everything will meet everyone's needs, but the workgroup hopes that most campuses will find at least some resources useful.
All of the following resources are available to the entire University of California community.
| Events | Posters and Videos | Blog articles | Guides for students | Tip of the day | Fact sheets | Ideas for outreach | External Resources |
---
Events:
Past event:
Thurs, 10/5, 9:30-10:30 AM - UCSB Zoom event - open to all UC locations:
UCSB IT Forum including brief remarks from:
CIO Matt Hall
CISO Sam Horowitz
Chad Spensky, Allthenticate (allthenticate.net)


Chad is currently a Ph.D. student in the security lab (SecLab) at UCSB. Formerly, he was a member of the technical research staff at MIT Lincoln Laboratory. His talk will address taking a research project and moving towards operational product.

Kevin Schmidt - Palo Alto UTM deployment progress and plans
Doug Drury - NSF CC grant opportunity
Connect via Zoom
Past event - connection information removed.
---
Posters and Videos
New and featured posters and videos for 2017 are below. Please see our poster page and video page for all posters and videos.
Click on poster image for printable PDF.
Editable versions of all posters are available to the UC community. Please contact your Systemwide Information Security Awareness Workgroup rep(s), listed to the upper left. If your location isn't listed, please email BOTH Julie Goldstein AND Kamika Hughes at julie.goldstein@ucop.edu and kamika.hughes@ucop.edu.
Think before you click

Related video shorts:

Keep what's private private

Related video shorts:

Use a password manager

Related video shorts:

Patches aren't just for pirates

Related video shorts:

You've been hacked!
Now what?

Related video shorts:

Penguin and Shark Poster Series - available to UC community only
(click image for larger view)

Related video shorts:

Terms and Conditions May Apply

A documentary about the privacy implications of click-through agreements.

UC locations interested in holding a screening of the documentary Terms and Conditions May Apply can email Roslyn Martorano, Roslyn.Martorano@ucop.edu, to arrange to check out a licensed screening copy of the DVD. Please provide ample advance notice for all requests!

(Also available on Netflix and Amazon Prime for individual viewing.)

Blurb from IMDB: "Terms And Conditions May Apply examines the cost of so-called 'free' services and the continuing disappearance of online privacy. People may think they know what they give up when they click 'I Agree' on companies like Facebook and Google. They're wrong."
---

UC IT Blog Articles and Spotlights
Articles will be available below as they're published throughout October
Previous years' NCSAM Blog articles
Go to cio.ucop.edu to visit or subscribe to the UC IT Blog.
---
Cybersecurity guides for students
Information Security Awareness 101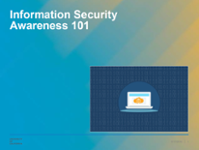 This short, 10-slide powerpoint presentation is designed to be shown to students and discussed. It was developed by a UCOP student intern and covers some key, student-focused cybersecurity information and tips.
Editable version is available to the UC community. Please contact your Systemwide Information Security Awareness Workgroup rep(s), listed to the upper left. If your location isn't listed, please email BOTH Julie Goldstein AND Kamika Hughes at julie.goldstein@ucop.edu and kamika.hughes@ucop.edu.
-----
Secure Your Stuff!! Ideas for students from UC Davis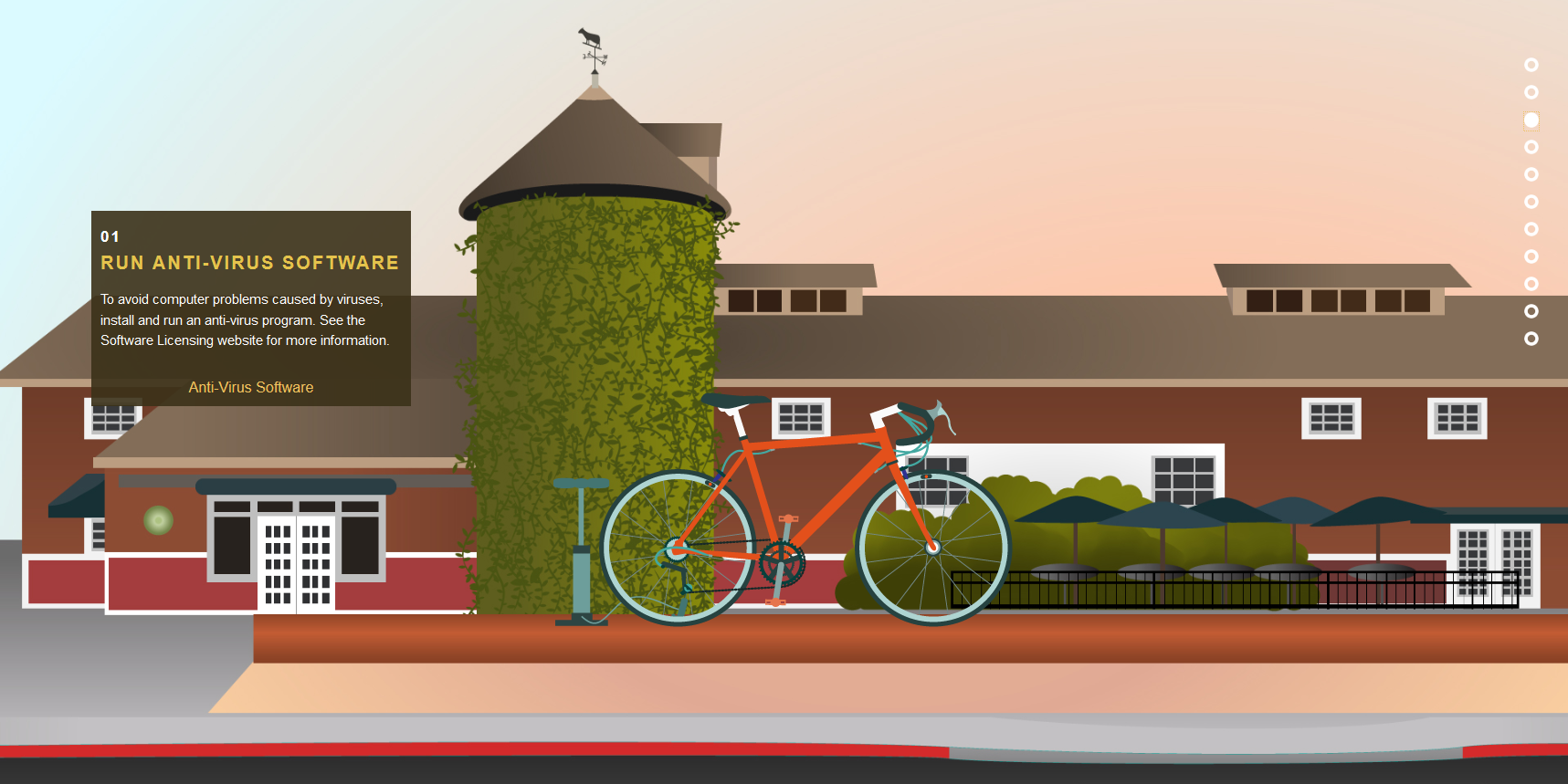 "Securing your computer is very much like taking care of your bike. Follow our step-by-step guide to ensure that your computer is as safe and secure as your bike in UC Davis!"
---
Each day SANS posts a new tip that focuses on and explains a specific topic and actionable steps people can take to protect themselves, their family and their organization. In addition, each tip is linked to an OUCH! newsletter so you can learn more about the topic, in over 20 languages.
---
Fact Sheets and Tips
Information security tips and fact sheets:
Protect Your Computer
Mobile Devices
Social Media
Two-Factor Authentication
Ransomware
General Cybersecurity
Protect Your Home Network
Identity Theft Resources
12 cybersecurity tips from UCSF Benioff Children's Hospital, Oakland
Editable version is available to the UC community. Please contact your Systemwide Information Security Awareness Workgroup rep(s), listed to the upper left. If your location isn't listed, please email BOTH Julie Goldstein AND Kamika Hughes at julie.goldstein@ucop.edu and kamika.hughes@ucop.edu.
---
NCSAM Outreach
Since different groups on campus use different communication channels, the Security Awareness Workgroup has compiled a variety of ideas for getting the NCSAM word out. See if any might work at your location. Remember: It's OK to start small and build. And look for opportunities to leverage communication channels, outreach and events that are already happening across campus.
Quicklinks for Outreach section:
| Web pages | Social media | Work with other departments or groups | Ideas for posters | Tabletents | Screensavers/Startup screens | Email | Newsletters/Newspapers | Event calendars |
Put awareness materials on a central, one-stop-shop webpage for easy reference and linking.
Banner on campus, ITS and/or Security websites. See if other departments will post your banners on their websites, too.
Messages or banner on the Academic Information System login/portal page. Also the Learning Management System.
Might be best for communicating with students. 
Work with departments on campus that already have social media pages or feeds. Send them ready-to-use messages; send them your posts and tweets to re-tweet or link to. 
Campus Communications' feeds (provide content to them).
Tom Andriola's (UC CIO) twitter feed -- targets the systemwide IT community (you can also suggest content).
Work with departments or groups that already work with your target audience. They may have ways to connect that aren't available to you directly. Some specific ideas:
For students: ResNet, RAs, Housing, Student Affairs, Student orientations, Student organizations, Departments/Boards of Study, Connect with professors of large lecture courses, Set up meetings with ResLife staff and/or students.
For faculty and staff: Department heads, Deans, Work with your location's equivalent of Division/Department IT Liaisons/contacts/Champions/Partners. Email from the CISO or CIO.
For researchers: Research and Grants department. Is there a support group for researchers? If so, try to connect with that group.
For graduate/professional students: Target departmental and grad student social media feeds.
For clinicians: Posters in elevators geared toward people who work in the facility. Poster "tilt-ups" at cafe checkouts; tabletents on cafe tables.
Present NCSAM info at existing meetings. Try to get 10 minutes on the agenda of a standing meeting to discuss some of this year's key NCSAM messages. Or work with departments/groups to set up a special meeting for a security awareness presentation or discussion.
Work with your location's Communications or Marketing groups/Marketing Council. They often have existing ways to communicate with campus and "ins" into more targeted communication channels.
Put NCSAM posters on the inside of bathroom stall doors in dorms, administrative and classroom buildings, and clinician areas.
Put posters in elevators.
Send posters to departments (through Mail Services if available) to post on administrative bulletin boards. Send a different poster each week of October!
Campus shuttle buses and kiosks; also local public buses that students use.
Give to RAs to put up in dorms.
Library study rooms and study cubes (partner with the Library to post, if possible).
Video bulletin boards and other digital signage (for posters and videos).
Give posters to IT support techs to post when they're visiting clients.
Post banners around campus. Work with campus Events department to tap into existing signage options.
Tabletents on dining hall, Faculty Club, and cafe/cafeteria tables: For locations that use these, this is a great way to get small versions of the posters or other flyers in front of students and faculty.
Screensaver/startup screen/splash screen for Library and lab computers: simple message, plus a link to a website
Send a brief email blast to campus from the CISO or CIO announcing NCSAM, stating its purpose, and what to look for for the campus campaign this year. 
Email to department heads to pass along. 
Long term: Develop an outreach mailing list. Build it over time from supporters and others who have shown interest in info and materials, or in helping to spread the word.
Campus News & Events
Put an ad or NCSAM blurb or quick-tip in the student online newspaper.
Find out who else is sending newsletters to their constituencies and see if they will include your messages.
UC IT Blog (systemwide blog for the broader UC IT community).
Events calendars: campus events calendar; student life events; student organization events
---
External NCSAM Resources

NCSAM Resources from EDUCAUSE
Join EDUCAUSE and NCSA as we celebrate the 14th year of National Cyber Security Awareness Month.
Here are a few simple ways your institution can show support and help the higher ed community make NCSAM 2017 the most successful yet.
Become a NCSAM Champion. It's free and easy to sign up online! Join your peers and be recognized on NCSA's website.
Use the hashtag #CyberAware on social media.
Download free promo materials from NCSA, including logos, sample social media posts, memes, infographics, and more.
Learn how to get more involved and make a difference this October and year round.
Discover the 2017 weekly themes.
Use our 8-question NCSAM Planning Guide worksheet (available in the NCSAM Resource Kit) to start planning your events or activities.
Find free resources in our Cybersecurity Awareness Resource Library.
Search for potential guest speakers in our Speakers Bureau.
Announce the 14th anniversary of NCSAM in a campus newsletter, blog, or student paper. Consider using sample text from our Security Awareness Campaign materials for that month — October 2017: Information Security Is Our Responsibility.
Save the date for a free EDUCAUSE Live! webinar on October 26, 2017 (1-2 pm ET).
Please share any plans you have with this discussion list. We are also happy to provide assistance if you need to find resources – just send a note to security-council@educause.edu.
We look forward to celebrating with you this October!
Valerie
Valerie Vogel Senior Manager, Cybersecurity Program
EDUCAUSE
Uncommon Thinking for the Common Good
direct: 202.331.5374 | main: 202.872.4200 | twitter: @HEISCouncil | educause.edu
---
SANS NCSAM Planning Toolkit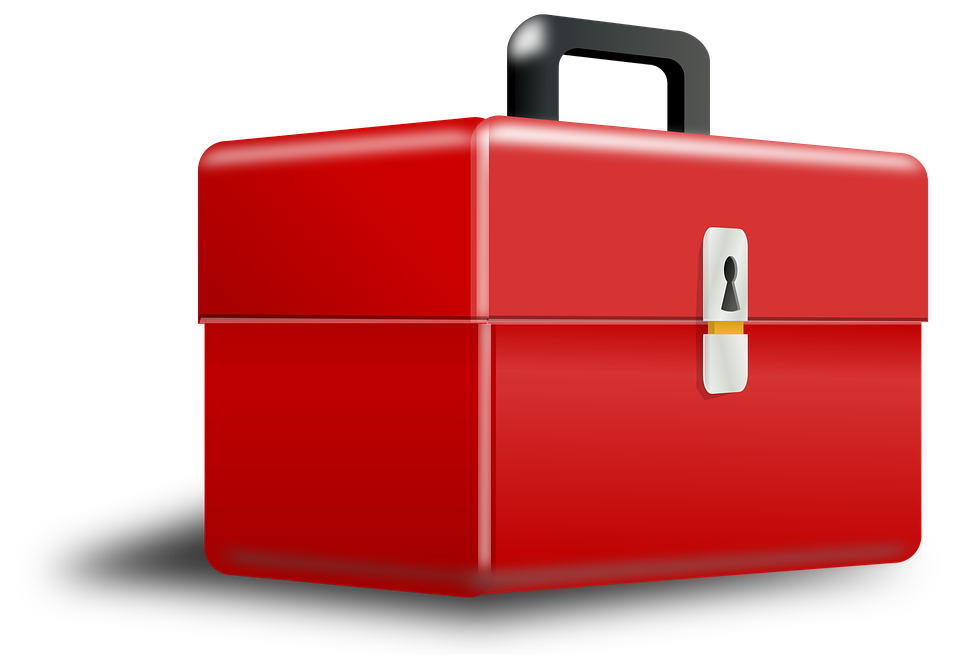 SANS offers a National Cyber Security Awareness Month planning toolkit with free resources mapped to each weekly theme of the national NCSAM campaign.
From the website: This kit includes "a planning matrix on what to do and when, communications templates, and resources such as newsletters, posters, tips and other materials. This kit is designed to work on its own or supplement anything you may already have planned. Simply pick and chose whatever resources or events you want to use."