Information Security Awareness
Technology alone can't always protect our computers and information. Awareness of information security issues and best practices is an important tool to help you protect yourself, your family, and the UC community.
Contents:
---
Protect Yourself from Tax Fraud
January 2017.
The New Year brings the start of tax season, and W-2 Wage and Tax Statements will be available soon. With them will likely come a wave of scams from attackers trying to get their hands on your personal information.
The IRS estimates that identity thieves have stolen more than $8B over the past few years, and the 2016 tax season saw a significant increase in phishing and malware incidents. UC is not immune.
Be wary of any message asking for W-2 or other tax information. Last year, these scams primarily came in two forms:
Extremely authentic looking emails impersonating UC communications about how to access your W-2 statement.

These emails looked almost exactly like the genuine UC emails – including the "from" address – but contained a harmful link designed to steal passwords and personal information.

Emails directed to financial and payroll employees requesting copies of employee W-2s.

These emails looked like they were from executive management, such as the UC president, the campus chancellor or executive vice chancellor, or the head of Financial Affairs, and requested copies of employee W-2s for review purposes. See this IRS alert from last year.
Protect yourself
We don't know what the scams are going to look like this year, but expect attackers will only get craftier. Protect yourself this tax season by doing the following:
To access your W-2 statement, go directly to UC's At Your Service or UCPath website (whichever your location uses) instead of clicking on a link in an email.
Use known contact information to verify any request for W-2 or other tax information, even if it looks like it's from someone you know.
More... See the full article for additional tips
---
Ransomware
Ransomware is a type of malicious software (malware) that denies a user access to their system or files and demands payment to regain access. It is a threat to everyone because it targets everyone.
---
General Cybersecurity Tips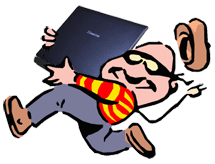 The need for cybersecurity is increasingly evident. Major cyber attacks, ransomware attacks, and data breaches are in the news regularly. Criminals and hackers are constantly coming up with new schemes designed to compromise computers, steal personal or private information or passwords, or trick you into giving out information you shouldn't reveal. Last year's cyber attack on UCLA is a reminder that UC is also a target.
Fortunately, each of us can take simple steps to protect ourselves at work and at home. The following rules of thumb can help...
---
"Each issue focuses on and explains a specific topic and actionable steps people can take to protect themselves, their family and their organization."
---
---