Protecting Your Digital Self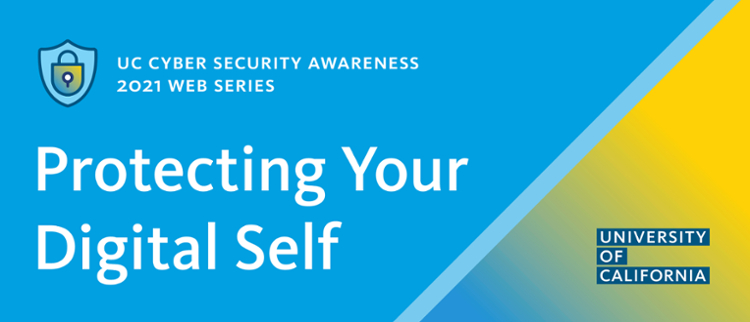 Protecting Your Digital Self

– the webinar series
Protecting your Digital Self is the webinar series created and developed by the UC Systemwide Cyber Champions Team. The series features UC Faculty and industry leaders discussing their research and work in areas, which may be outside of the traditional cybersecurity landscape but intersects the digital space and is impacted by cybersecurity.  Protecting Your Digital Self provides an opportunity for UC Faculty, staff, and students to come together virtually for interdisciplinary discussions surrounding information security on a wide range of topics relevant to society as a whole.
See our calendar below for upcoming series events. Contact us to receive email notifications for future events. We hope you can join us!
Visit these websites to learn more about UC Location Information Security programs.
UC Agriculture and Natural Resources; UC Berkeley; UC Davis; UC Davis Health; UC Irvine; UC Irvine Health; UC Los Angeles; UC Los Angeles Health; UC Merced; UC Riverside; UC Riverside-School of Medicine; UC San Diego; UC San Diego Health; UC San Francisco; UC Santa Barbara; UC Santa Cruz;
 

November 12, 2021       1 - 2 PM

 

 

Over the last decade, a range of research has transformed our understanding of automobiles. What we traditionally envisioned as mere mechanical conveyances are now more widely appreciated as complex distributed systems "with wheels". A car purchased today has virtually all aspects of its physical behavior mediated through dozens of microprocessors, themselves networked internally, and connected to a range of external digital channels. As a result, software vulnerabilities in automotive firmware potentially allow an adversary to obtain arbitrary control over the vehicle. Indeed, led by UC San Diego and the University of Washington, multiple research groups have been able to demonstrate such remote control of unmodified automobiles from a variety of manufacturers. 

In this talk, Dr. Stefan Savage, PhD will highlight how our understanding of automotive security vulnerabilities has changed over time, how unique challenges in the automotive sector give rise to these problems and create non-intuitive constraints on their solutions and, finally, the forces that naturally limit the kinds of automotive attacks seen in the wild.

Stefan Savage is a professor of Computer Science and Engineering at the University of California San Diego. He received his Ph.D. in Computer Science and Engineering from the University of Washington and a B.S. in Applied History from Carnegie Mellon University. He currently serves as the co-director for UCSD's Center for Network Systems (CNS). Savage is a full-time empiricist, whose research interests lie at the intersection of computer security, distributed systems and networking. Savage is a MacArthur Fellow, a Sloan Fellow, an ACM Fellow, and is a recipient of the ACM's Prize in Computing and SIGOPS Weiser Award. He currently holds the Irwin and Joan Jacobs Chair in Information and Computer Science, but is a fairly down-to-earth guy and only writes about himself in the third person when asked.

 

 

PAST EVENTS

 

 

 

 

 

March 5, 2021 - Noon

 

Professor Miriam Metzger will discuss her research concerning user perceptions of the credibility of misinformation, moderated by Professor Joseph B. Walther. These accomplished professors will discuss the implications of Professor Metzger's research on how individuals perceive misinformation and its sources, and what you can do to protect yourself and your communities from the damaging effects of misinformation. afterward. 

Miriam J. Metzger is professor of Communication at the University of California, Santa Barbara. Her research lies at the intersection of media, information technology, and trust, centering on how advanced information and communication technologies (ICTs) alter our understandings of credibility, privacy, and the processes of media effects on both individuals and society. Her work examines questions about how ICTs challenge traditional notions of trust, with a focus on the credibility of information online and on how users of digital media negotiate privacy and disclosure decisions. Professor Metzger also serves as the Ph.D. Emphasis Director of the Center for Information, Technology and Society (CITS-UCSB), where she is a faculty affiliate. She was the Associate Director and the Director of Education at the Center for Nanotechnology and Society (CNS-UCSB), the only NSF-designated National Center to focus on social science research. 

Joseph B. Walther is a Distinguished Professor in Communication, the Mark and Susan Bertelsen Presidential Chair in Technology and Society, and the Director of the Center for Information Technology and Society at the University of California, Santa Barbara. His teaching and research focus on computer-mediated communication and social media in personal relationships, groups, educational settings, and inter-ethnic conflict, topics on which he has contributed several original theories and numerous experiments and surveys. He is a fellow at the Amsterdam School of Communication Research (ASCoR), where he was a Fulbright Scholar. He's also a Fellow of the International Communication Association (ICA) and a Distinguished Scholar in the National Communication Association (NCA). He's received the NCA's Woolbert Award for articles that have stood the test of time and changed thinking in the communication discipline for more than ten years, and the ICA's Chaffee Award for career productivity and influence.With the UCs since 1999 and the University Archivist at UC San Diego since 2016. As University Archivist, she coordinates with offices and organizations across the campus to collect analog and digital records documenting the achievements, challenges, events, and people at UC San Diego, ranging from top administrators to student organizations.

 

 

 

 

 

April 30, 2021 -  Noon

 

 

 

 

 

 

Join the UC Systemwide Cyber Champions Team for the second iteration of the new webinar series "Protecting Your Digital Self." On Friday, April 30th at 12 p.m. Pacific Time, the topic of discussion will be Diversity, Equity, and Inclusion in the Digital Age. Hear from Jessica Robinson, Founder and CEO of PurePoint International, on why systemic racism poses a threat to cybersecurity infrastructure, the role of leadership and management in cultivating Diversity, Equity and Inclusion (DEI) within the cybersecurity field, and what action items can be taken to highlight the importance of DEI in the digital context.

About Jessica: Jessica A. Robinson is a cybersecurity leader with a different approach. She is the CEO at PurePoint International, and its brand Consciously Secure Living (CSL). Since the company started, CSL has addressed unique and important concerns raised by members in the PurePoint community to support our leaders where they are and help them create inner security so they can create outer security for those they care about most, particularly, vulnerable and underrepresented populations, including people of color, women and Black communities.

PurePoint helps CEOs prevent data breaches by bridging the gap among data security, cyber risk, and privacy. PurePoint International is the #1 security company of choice for women-led and/or owned businesses and organizations globally and is the winner of the JCI Philippines-New York ICON of IMPACT Award for International Affairs and Women's Security for their work with CEOs and innovative approach with global businesses.

As a vCISO, Jessica and her team provide consulting services focused on creating a consciously secure workplace in education, insurance companies, financial services companies, credit unions, global middle market companies, as well as international non-profits and businesses from startups - with $350M in revenue.

 

 

 

 

May 20, 2021 -  1pm

Register here

 

Elvis Chan, Supervisory Special Agent, FBI, and Patrick Phelan, Chief Information Security Officer, UCSF

Cybersecurity is a key issue for us in our private lives — think identity theft — and at the national scale — such as federal elections. For scientists in academic & commercial labs, threats include IP theft, ransomware, and hacktivism. Where are we vulnerable to those who want to disrupt or steal from us? How can we do the best possible job of protecting ourselves and the organizations we serve? Join us to learn best practices from the FBI's Elvis Chan, who manages San Francisco's Cyber Branch, which is responsible for cyber investigations and digital forensics, and Patrick Phelan, chief information security officer at UCSF.

Co-sponsored by the UCSF Cyber-Champion Team as part of the 2021 Protecting Your Digital Self Series.