Cybersecurity Awareness Month 2023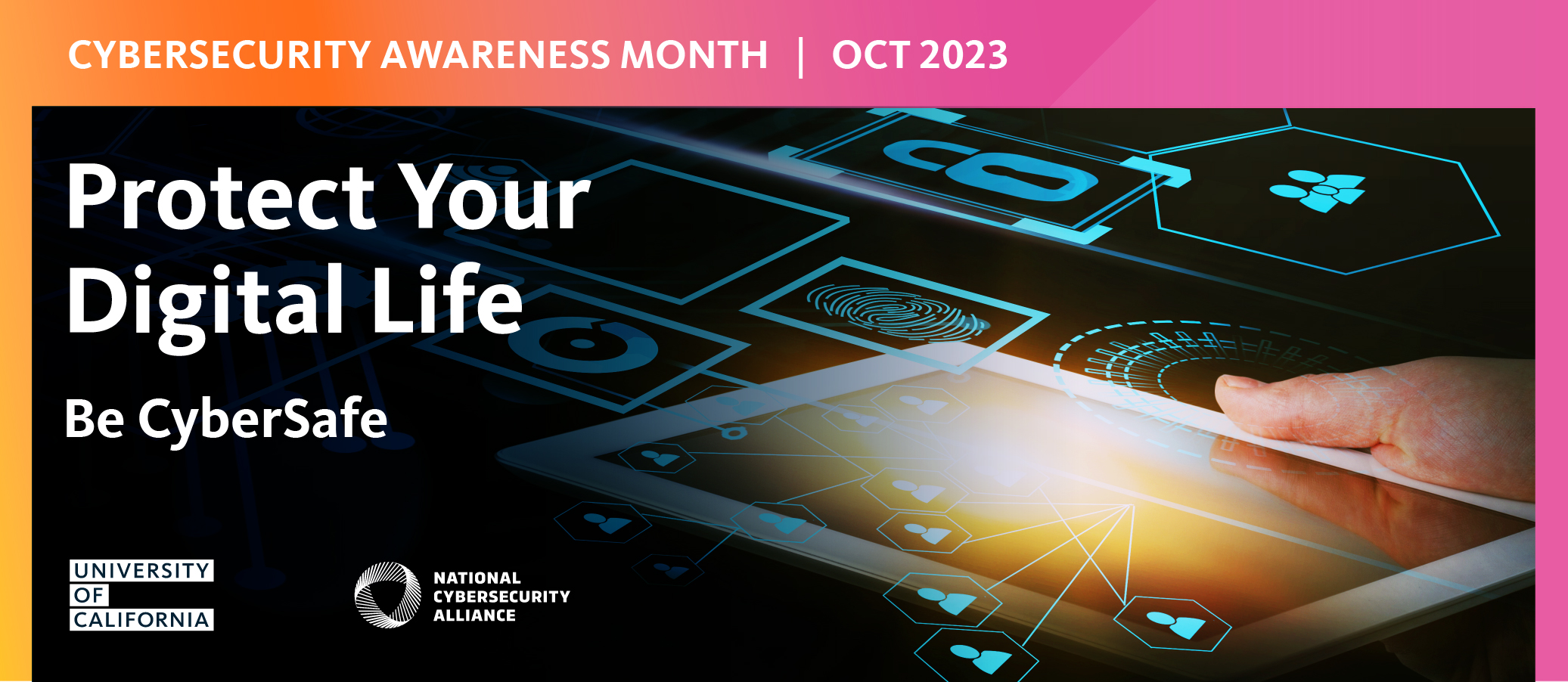 October 2023 marks 20 years of Cybersecurity Awareness Month. While security awareness and education has come a long way since its beginnings, it continues to evolve to identify and address new security challenges faced by all of us.
The University of California theme this October is Protect Your Digital Life – Be CyberSafe.
With increasing digital threats and evolving technological developments, the best ways we have identified to help you to individually protect yourself, your private information, and the University is by focusing on four key behaviors in both your personal life and at work:
Use strong passwords and where possible a password manager
Use MFA (muti-factor authentication)
Recognize and report phishing
Update software
Taking action in all of these areas will have a direct impact on keeping both you and the University of California cybersafe.
There are many ways to engage with Cybersecurity Awareness Month at UC.  Below, you will find the Systemwide Events Calendar that includes those hosted by various UC locations.  In addition, check your Location's Information Security website for location specific events and activities, and learn how you can become a Cyber Champion to promote a safer, more secure and more trusted security environment.
Visit UC location websites to learn more about their Information Security programs. UC Davis; UC Davis Health; UC Berkeley; UC Agriculture and Natural Resources; UC San Francisco; UC Merced; UC Santa Cruz; UC Santa Barbara; UC Los Angeles; UC Riverside; UC Riverside-School of Medicine; UC Irvine; UC Irvine Health; UC San Diego
Zoom backgrounds with location logos can be downloaded here.
October is UC Cybersecurity Awareness Month.  Protect Your Digital Life – Be CyberSafe!
ON-DEMAND RECORDED WEBINAR EVENTS
CALENDAR OF EVENTS