Outreach Strategies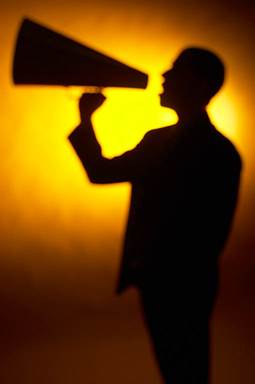 One of the biggest challenges for any information security awareness program is getting information to the intended audience in a way that is effective. Following are a variety of strategies that locations throughout UC have found successful. See if any might work at your location. Remember: It's OK to start small and build. And look for opportunities to leverage communication channels, outreach and events that are already happening across campus.
Quicklinks:
| Web pages | Social media | Work with other departments or groups | Ideas for posters | Table tents | Screensavers/Startup screens | Email | Newsletters/Newspapers | Event calendars |
Put awareness materials on a central, one-stop-shop webpage for easy reference and linking.
Banner on campus, ITS and/or Security websites. See if other departments will post your banners on their websites, too.
Messages or banner on the Academic Information System login/portal page. Also the Learning Management System.
Might be best for communicating with students. 
Work with departments on campus that already have social media pages or feeds. Send them ready-to-use messages. Send them your posts and tweets to re-tweet or link to. 
Campus Communications' feeds (provide content to them).
Tom Andriola's (UC CIO) twitter feed -- targets the systemwide IT community (you can also suggest content).
Work with departments or groups that already work with your target audience. Suggestions are below. They may have ways to connect that aren't available to you directly. They can also tailor or customize materials to meet the specific needs or interests of their community. Share awareness campaigns and other content with these groups as a way to support them in helping to keep their communities safe and informed.
For students: ResNet, RAs, Housing, Student Affairs, Student orientations, Student organizations, Departments/Boards of Study, Connect with professors of large lecture courses, Set up meetings with ResLife staff and/or students.
For faculty and staff: Department heads, Deans, Work with your location's equivalent of Division/Department IT Liaisons/contacts/Champions/Partners. Email from the CISO or CIO can also be effective for this group.
For researchers: Research and Grants department. Is there a support group for researchers? If so, try to connect with that group, too.
For graduate/professional students: Target departmental and grad student social media feeds.
For clinicians: Posters in elevators geared toward people who work in the facility. Poster "tilt-ups" at cafe checkouts; table tents on cafe tables.
For retirees and emeriti: Connect with the point person for your location's Retiree and Emeriti Center or Retirement and Emeriti Association. Each campus has a role that works with this community. Share campaigns and other content with the point person. They can tailor or customize the materials and distribute through already-existing channels, include in newsletters, etc.
Present cybersecurity awareness info at existing meetings. Try to get 10 minutes on the agenda of a standing meeting, or work with departments/groups to set up a special meeting for a security awareness presentation or discussion.
Work with your location's Communications or Marketing groups/Marketing Council. They often have existing ways to communicate with campus and "ins" into more targeted communication channels.
Put cybersecurity awareness posters on the inside of bathroom stall doors in dorms, administrative and classroom buildings, and clinician areas.
Put posters in elevators.
Send posters to departments (through Mail Services if available) to post on administrative bulletin boards.
Send posters (print or electronic) to your cyber champions or partners to share with their communities.
Campus shuttle buses and kiosks; also local public buses that students use.
Give to RAs to put up in dorms.
Library study rooms and study cubes (partner with the Library to post, if possible).
Video bulletin boards and other digital signage (for posters and videos).
Give posters to IT support techs to post when they're visiting clients.
Post banners around campus. Work with campus Events department to tap into existing signage options.
Table tents on dining hall, Faculty Club, and cafe/cafeteria tables: For locations that use these, this is a great way to get small versions of the posters or other flyers in front of students and faculty.
Screensaver/startup screen/splash screen for Library and lab computers: simple message, plus a link to a website
Send a brief email blast to campus from the CISO or CIO. Make it short and sweet and catchy. Include a link for more information.
Email to department heads and Student Affairs/ResLife to pass along. 
Long term: Develop an outreach mailing list. Build it over time from supporters and others who have shown interest in info and materials, or in helping to spread the word. Even a list of people who can post flyers is helpful!
Campus News & Events
Put an ad, cybersecurity blurb, or quick-tip in the student online newspaper.
Find out who else is sending newsletters to their constituencies and see if they will include your messages.
UC IT Blog (systemwide blog for the broader UC IT community).
Events calendars: campus events calendar; student life events; student organization events